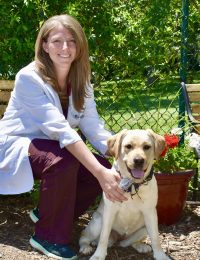 Dr. Alisha Walker grew up in "Small Town Friendly". Here she attended RS Central high school, where she was an active member of the MCJROTC program. Upon graduating Dr. Walker planned to join the Marine Corps until she discovered her passion for veterinary medicine. Dr. Walker initially started as part of the Rutherford Veterinary team just after high school in 2006, working as a volunteer. Her interest in veterinary medicine quickly took off following those first few months. She worked in many areas of the practice; volunteering, kennel staff and finally as a veterinary assistant. Dr. Walker was keen to learn all she could under the practice owner, Dr. Michelle Toms-Greene. While working as a veterinary assistant, Dr. Walker commuted to the University of North Carolina in Asheville. There she earned her undergraduate degree in Biology in 2012.
Dr. Walker first started veterinary school in the summer of 2013, when she was accepted to Ross University in St. Kitts. However, Dr. Walker's dream had always been to attend North Carolina State University College of Veterinary Medicine. While she enjoyed the white sunny beaches of the Caribbean island, her dream never changed. She was quick to transfer into NCSU following her second semester at Ross University. Dr. Walker earned her degree in veterinary medicine from North Carolina State University College of Veterinary Medicine in 2017. Naturally, Dr. Walker was more than happy to accept the opportunity to work as an associate veterinary at Rutherford Veterinary Hospital. Dr. Walker graduated as a small animal focused veterinarian and holds a special interest in feline medicine. She continues to have a great thirst for knowledge even after completing veterinary school.
Dr. Walker is the proud mother of five wonderful fur babies. Three beautiful cats; Mittens, Lucky and Miracle. As well as two playful dog; an English lab named Brie and a Pitt bull named Tank. In her down time she enjoys arts and crafts, reading, hiking and spending time with friends and family. Dr. Walker still enjoys sunny beaches and one day plans to revisit the island of St. Kitts, where her veterinary degree first started.